---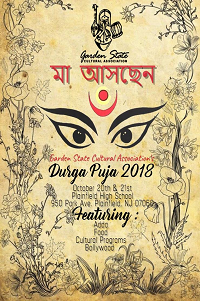 Durga Puja , Pushpanjali, Prasad , Dinner,Cultural Program (Artist from Kolkata and Bollywood), Kids Activities and SHARAD MELA.
Youth and Local Performance
---
Calling all arttists for Youth and Local Performance
We would love to showcase community talent at this event
---
Guidelines/Requirements:
We are welcoming performances of all art forms with certain guidelines/requirements- please continue below for more information.

YOUTH TALENT SHOWCASE
GSCA will be hosting a fun, encouraging, noncompetitive talent showcase involving youth (17 years and younger) in the local community. All performances are welcome (recitation, dance, instrumental, vocal, etc.).
Guidelines/Requirements:
1) Must be 17 years or younger to perform.
2) All performance should ideally be no more than 5 minutes.
3) Instruments will not be provided.
4) Spots will be first come, first serve.

---
GENERAL PERFORMANCE
GSCA invites all local talent to perform at Sharad Mela.
Guidelines/Requirements:
1) 5-10 minute cultural performance in any of the following art forms: Vocal, Dance, Instrumental, Comedy, Poetry/Recitations, Theater/Skits.
2) Instruments will not be provided.
3) Video/audio links of prior performances must be emailed to gscasharadmela@gsca.us for review before approval.
4) Spots will be first come, first serve.
ALL PERFORMERS must confirm registration for GSCA Durga Puja, which will be validated by the accounts team.
Youth and Local Performance Entry Form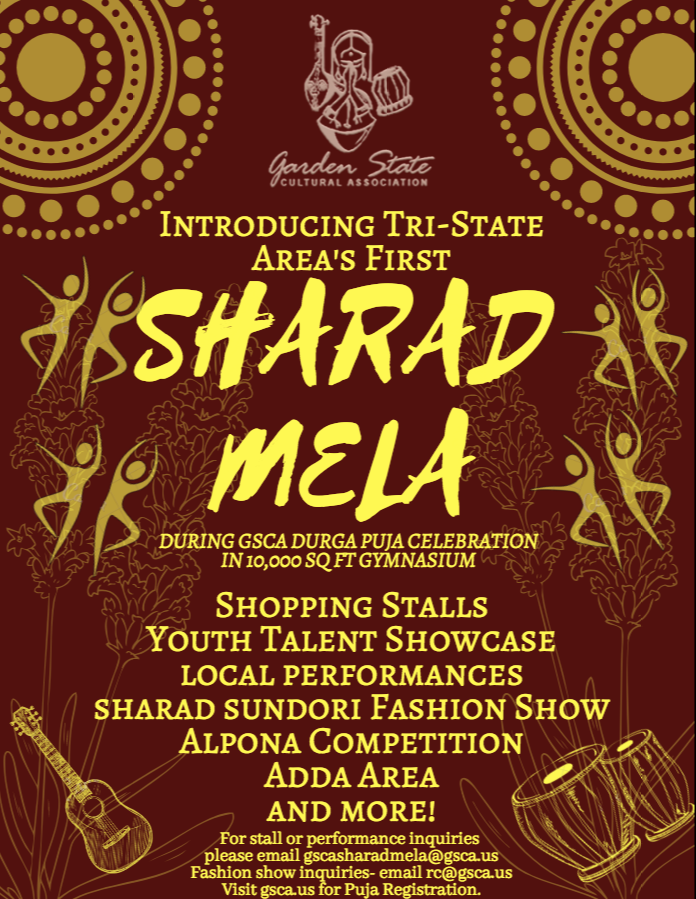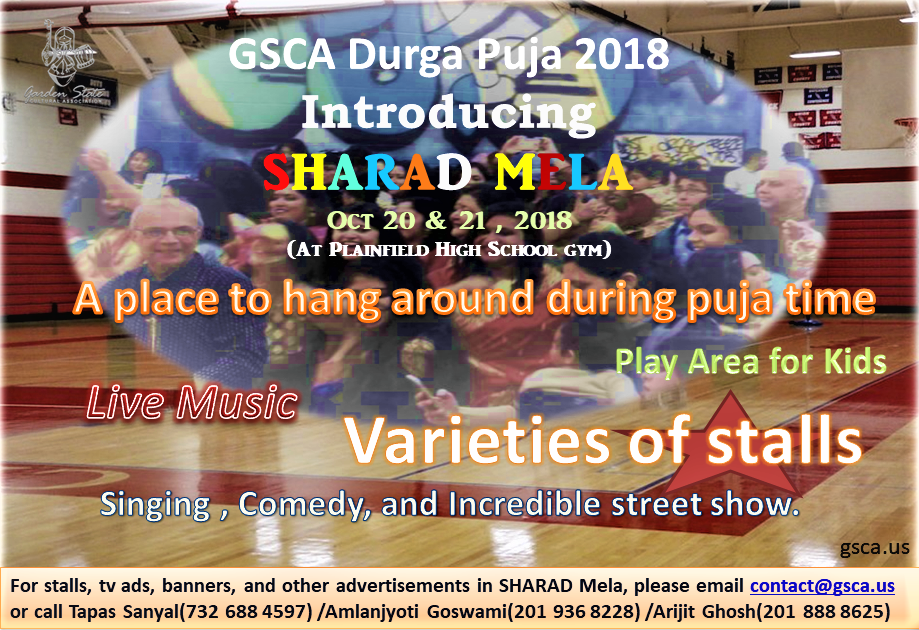 SHARAD MELA
GSCA will host a grand "SHARAD MELA" or "FALL FAIR" in the massive space of the Plainfield High School's gymnasium. GSCA will create and maintain the necessary mela or fair-like ambience to attract the patrons. Apart from all the required steps taken, a nostalgic atmosphere will be created in this venue by playing traditional and new-age music, video contents, varieties of stall etc. that would churn all hearts especially of Bengalees with much-familiar supercharged emotions.
The placement of tables that earlier used to be laid down in premium and non-premium locations of the corridor, will now be done inside the gymnasium alone.
Note: Allocated space (maximum 2 tables) will be strictly enforced. These two (02) standard sized tables will be provided on October 20th and October 21st, 2018 to the Vendors. Vendors are hereby requested NOT to bring any tables or other accessories of their own that will effectively occupy more space than what is allocated.
Oct 20 (Saturday)- Program Details
Jeet Ganguli
Jeet Ganguli
Bollywood Awards
Mirchi Music Awards Upcoming Music Director Filmfare Awards Best Music Director Zee Cine Awards Best Music Director IIFA Awards Best Music Director
Bengali Awards
Filmfare Awards East Best Music Director Anandalok Awards Best Music Director ( 3 times) Tele Cine Awards Best Music Director ( 3 times) Star Jalsa Entertainment Award Best Music Director 2013 Bapi Bari Jaa Tele Cine Awards Best Music Director Kalakar Award Best Music Director Mirchi Music Awards Bangla Best Music Director Zee Bangla Gaurav Samman Award Best Music Director.
Jeet's Bollywood & Bengali discography
Hindi Film
Bengali Film
Song:MUJHKO BARSAAT BANA LO / Music:Jeet Gannguli
Song:TU JUNOONIYAT /Music:Jeet Gannguli
THE BEST OF JEET GANGULY
Song: BHULA DENA/HUM MAR JAYENGE/AASAN NAHIN YAHAN / Music: JEET GANGULLI
Song:Barsaat Mein / Artist:Jeet Gannguli
Song:Koi Karega Na Tumse Pyaar / Singer & Composer - Jeet Gannguli
Song:Suno Na Sangemarmar / Music - Jeet Gannguli
---
Musical drama - "Magonlaler Deray" - Oct 20
---
This year Bharatiya Kala Kendro has brought up an unique musical production. "Magonlaler Deray" is a musical drama of 55 minutes length based on the story line of "Jaybaba Felunath". It is completely new musical with 10 new songs and new script written in poetry style. This musical is full of entertainment with exciting music, dance, drama, action, full video background and pre- recorded gorgeous sound track. This was presented in NABC 2018 and was highly appreciated as the best local production.
---
Concept, Script, Songs, Drama, Music Composition, Overall Direction, Video Editing : Parthasarathi Mukhopadhyay
Dance Choreography: Anindita Mukhopadhyay
Music Arrangements and sound mastering : Soumen Nandi, Kokata
Still Photo : Uttarjyoti Banerjee
Videography : Zoom Studio, Varanasi

Oct 21 (Sunday)- Program Details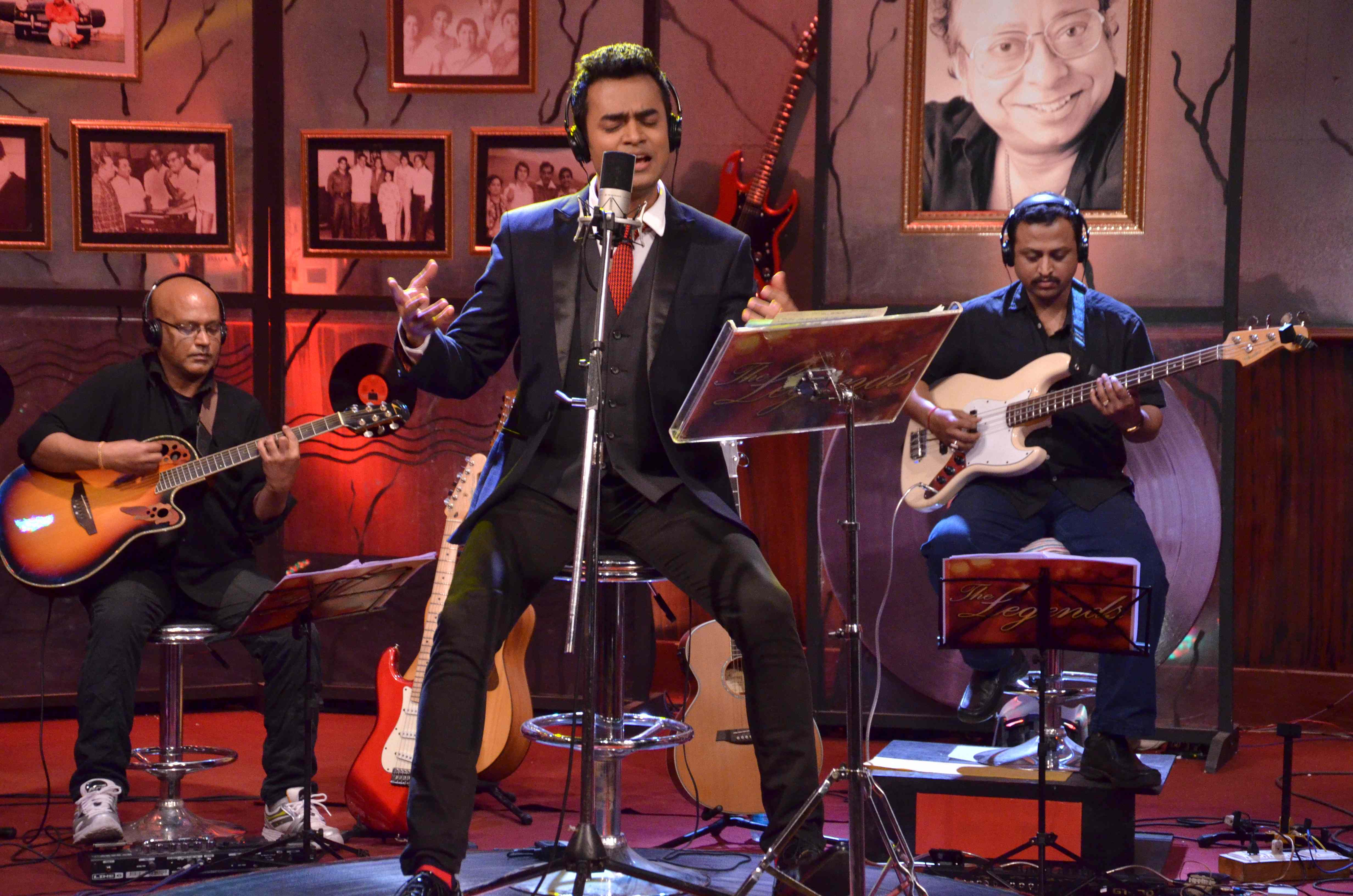 Debojit Saha
Debojit Saha
Debojit Saha, (Bengali: দেবজিৎ সাহা )born at Silchar, Assam in a Bengali Hindu family, is an Indian Playback singer mainly active in Hindi, Bengali and Assamese films. Debojit Saha was the Winner of Zee TV Singing reality show, Sa Re Ga Ma Pa Challenge 2005 and was awarded 'Voice of India' title.Few of his flim song includes , "O Mure Jaan" from Junda Iman Gunda","Marhaba" from Jimmy[3],"Happy Ending" from Tees Maar Khan with Abhijeet Sawant, Prajakta Shukre and Harshit Saxena, "Chu Chu" from Saheb, Biwi Aur Gangster[4],Four songs in Borolar Ghor.
Facebook
YouTube
Sohini Mukherjee

Live Performance with Debojit Saha
---
More details .. coming soon.
Art & Craft
Competition wiil be held on October 21. Age Group: 5 - 6 years, 7 - 9 years and 10 - 12 years. Seats are limited. Please register your child by emailing to recreation@gsca.us by October 10.
Saturday Menu
Coming Soon.
Sunday Menu
Coming Soon